Frequently Asked Questions
 His Wheels International Dual Offset Tube Trike (DOTT) Design
Between 2005 and 2015 HWI's team has designed 22 different trike prototypes and a trike manufacturing process. Here you can find a comprehensive trike history overview. Or if you prefer here is a brief trike history overview.

Disclaimer: This trike should be used with the properly fitted seat surface and other padding specific to the user. The seat back, footrest and crank height should also be properly positioned for that user. We strongly advise the involvement of a properly trained medical professional wherever possible.
What does the acronym DOTT stand for?
The acronym DOTT stands for Dual Offset Tube Trike, a reference to the fact that the main frame is made up of the two tubes running along the left side of the trike. This is a feature that somewhat simplifies the basic frame design. This somewhat unusual configuration actually helped to make the adjustable mounting of the seat back and footrest easier while reducing overall "parts count". While we did not realize it at the time, it would also end up providing better "transfer" access for wheelchair users.
What influenced you to make the choices that you did in designing the DOTT trike?
 Every design of almost any trike (or product) must begin with a set of starting assumptions. How much can it cost? Who will build it? What will their skill level be? What type of performance will be emphasized, and what kind of performance are we willing to give up in other areas to get it? What "alternate uses" might the trike be put to that it will have to be able to survive? For example…will it also be used as the village wheelbarrow sometimes? What environmental factors will it have to endure? Perhaps rainy seasons? Termites? Will it have to be built from purely local materials? Can some critical (better quality?) parts be shipped in that might make construction easier? …and performance better? Will the people who receive it know how to repair it? Will they bother to maintain it? These and a thousand other questions face the would-be trike designer. To make it worse, every region, and, in fact, every person will probably want something a little different. Thus, there will never be a single trike design that can be all things to all people.
Having said all that, perhaps the best place to start is to specify what our chosen goals were in designing the DOTT trike, and what ergonomic, performance and other aspects we chose to emphasize above others. Much input was received from our African friends, as well as others who had spent time working in the less developed parts of Africa. We chose put our emphasis on the following factors, and in roughly the following order…
Proper ergonomics, including positioning for upper extremity joint protection.
Simplicity and ruggedness of the design.
Low speed maneuverability and performance, including a reverse capability.
Ease of manufacture.
Reasonable cost given our quality and longevity goals.
 Attractive appearance.
A brief explanation for each of the above choices.
First, it seemed obvious to us (…or, at least our Physical Therapist) that we really wanted to do everything we could to protect the last two usable limbs of any person using the DOTT trike. We found out that any seating position and/or crank arm length combination that required the user to extend their arms out completely straight during normal crank rotation was putting them at increased risk for joint damage/overuse. These are factors that drove the decision to provide the various ergonomic adjustments (and shorter crank arm length) that the DOTT trike has, as well as our gear ratio preferences.
Second, we chose to emphasize simplicity and ruggedness because we envisioned a 20 year lifespan for the trike. Granted, some parts like tires, chains and bearings would wear out and have to be replaced eventually, but that was a given. Simplicity, in particular, was an emphasis because we wanted every aspect of the trike to seem "familiar" to every likely user or fabricator. We used simple tube steel construction that any local welder could fix or modify. We used a very simple and basic bike chain drive, just like they would use locally. Finally, semi-solid wheelbarrow wheels were used which would not go flat on rough terrain, or strand a user miles from home. Since these were pressed steel wheels, they had no spokes to break. As a bonus, we could weld any size gear to them that we felt appropriate.
Third, low speed maneuverability (and that direct drive reverse capability) seemed to be important to most of our cliental. This was probably because, for them, the trike is more analogous to a wheelchair than a bicycle. Most of them wanted the ability to get around at the local market, not to go at high speed from town to town. Normal walking speed was the speed they would usually be moving at.
Fourth, we wanted the trike to be relatively easy to make locally, even if some or all of the materials had to be transported in. To do that, we developed a "fixturing" system to help hold the many parts in alignment while they were being welded together.
Fifth, when it came to cost, we tried to balance that cost against long term durability and, again, good ergonomics. Details like the parts required to make the trike "adjustable" to fit the user add somewhat to the cost, but we felt that joint safety had to come first. Tough, rugged wheels and sealed bearings seemed a wise choice too. Low cost over the projected "service life" of the trike was at least as important as initial cost.
Finally, attractive appearance. Who wants to own an ugly trike? We hope that we were successful here, but you will have to be the judge.
(Note that, while cargo capability is also important, we had chosen to postpone the development of the various cargo carrying options until later in the development process. The reasons for this are explained under the section on "What do you consider the weaknesses of the design? What are you still looking to improve?")
There seem to be a few different types of DOTT trike. What are the differences?
The original two development prototypes of the DOTT design were called the DOTT-A. Considerable improvements, mostly in ergonomics and adjustability, eventually led to the creation of the "full size" DOTT-B. Full size meant that it could seat riders 6' and even taller. Further refinements in details would  eventually lead to the DOTT-C design (also full size) and then a new, smaller size DOTT better suited to riders under 5'6". The new, smaller size we called the DOTT-CC (the second "C" stands for compact). The compact DOTT-CC is really our main focus now as it best fits the most likely user profile.  
Your Dual Offset Tube Trike frame design is a little unusual. Have you ever tested it to see how strong it really is compared to a more conventional design?
We have tested the frame in a number of different ways. Of course, the most important criterion is long term performance in the field. We have about 60 of our DOTT trikes currently out in the field, some since 2008. While not everyone will get back to you with problems, we have had a fair amount of feedback. To date we have had only one known frame failure, in an area just ahead of where the seat tube joins the top, left side frame tube. After analyzing the probable cause (severe twisting of that tube section on rough terrain in Haiti) we began to fit all trikes with what we now call the "Haiti brace" to prevent this kind of failure. Later computer modeling of the entire frame by an engineering class at Messiah College in Pennsylvania would seem to confirm this as a relative weak point and the brace as a suitable solution.
In further testing we took a typical DOTT main frame and set it up for some simple static load tests. We proceeded to place weight upon the seat area in increments, carefully observing the frame and how the various tubes deflected, looking for cracks and weld joint failures as we kept piling on weight. We ran out of weight at 900 pounds. The frame had still not failed. It showed no breaks and no cracks. Just a little twist that disappeared as the weight was gradually taken back off. Of course, static tests are not the same as the shocks and abuse of the real world (dynamic testing). Still, we were happy with the results.
On the other hand, some have suggested that we may have more than enough strength now, and that we move to thinner tubing to make the trike lighter. We are hesitant to do this for several reasons. First, moving to thinner tubing would only save a small amount of weight. Second, thinner tubing would be that much more difficult to weld, particularly for those using less sophisticated welding equipment, or with less experience. Third, we have it on good authority that anything with wheels will be used as a makeshift wheelbarrow in some villages. For all we know, 900 pounds of rice bags loaded onto a DOTT may not be completely outside the realm of possibility.
The DOTT trikes we have seen must all be entered from the right side. Couldn't this be a problem? What if the user has a strength issue with one side of their body that makes it easier for them to enter such a trike from the left side?
For us, the "right side access only" was a calculated trade of one benefit to get several other benefits in return.
First, once all structural frame tubes are moved to the side away from the person transferring into the trike, it obviously makes it that much easier to enter. As a result, we have no fore-and-aft tubing down in that troublesome foot and leg area. Now the disabled user does not have to find a way to lift their immobile legs over these obstacles. For similar reasons, it is also easier to get a wheelchair up very close to make a transfer or to transfer out into a regular chair.
Second, we found it much easier to "connect the dots" mechanically (no pun intended) when it came to secure and adjustable seat mounting. Earlier, we had considered a more traditional approach, a large, single frame tube on the centerline of the trike, running from front to back. It would run under the footrest and straight back to the rear axle area. The problem came when we tried to find a way to make that seat position attach strongly and securely to that frame tube way down below it, as well as be adjustable in the fore-and-aft direction for the obvious ergonomic reasons. Every method of adjustable seat attachment that we could come up with ended up being just too complex for easy manufacture in the field. It was not until we went "outside the box" to the dual offset frame tube arrangement that we found a very simple way to make the seat very strong, yet "adjustable". We would simply make the frame tubes themselves a part of the (bottom) seat structure. The seat bottom would not move as it was not so critical (if initially positioned well) as the seat back. Those same frame tubes would then, with one simple 90 degree bend downwards, pick up the rear axles. Finally, now that we had two strong frame tubes running alongside the seat bottom, we could envision all kinds of easy ways to attach the seat back structure securely. In the end, we went with a simple bolt on system that allows that crucial adjustability for proper positioning.
Third, the dual offset frame tube concept allows the footrest/legrest assembly to be positioned at almost any height (or angle …with a drill and a few minutes work). This is due to the ideal positioning of the frame attachment point off to the side in a fore-and-aft, vertical plane. Again, simple.
Can a DOTT trike be built for access from the left side, instead of the right?
Generally speaking, yes. Up till now, all DOTT sample trikes have been built with the open access from the right side. However, there is no particular reason why a wheelbarrow wheeled DOTT trike cannot be built in a "mirror image", with access from the left side. All it would take is a simple mirror image of only two frame tubes (the top, left side frame tube and the seat tube that welds to it) and any DOTT could be made this way. These two tubes could even be cut and re-welded (to produce those mirror image parts) by a good welder while a DOTT was being built up.
It may be worth noting that there is one case where a mirror image DOTT frame may cause a problem. If you were to try and use a standard, coaster brake equipped "rear" bike wheel as a front drive wheel on your DOTT, that wheel would now be running "in reverse". This is because we would have flipped the gear side of that wheel over to the other side. You would find that you could pedal backwards just fine, but as soon as you tried to pedal forwards, the coaster brake would engage.
Why do you refer to many of the trikes you send out as "sample" trikes?
The concept of a "sample" trike stems from the fact that a physical example of the trike, sent to the location where the locals are considering producing it, serves several useful purposes.
First, they get to see how well the design performs under local conditions before deciding to produce it (or even, perhaps modify it to better suit local needs).
Second, an actual three-dimensional trike (sample) is much easier to "read" than a set of dimensioned drawings…especially in American English. Any resourceful African welder can see and then duplicate the basic framework of this design (or create his own version of it), as long as it is in front of him, and he can find a way to get his hands on suitable materials. He may not be able to duplicate all the features and details, but he will probably find alternate solutions.
Finally, these trikes have also acted as sample trikes for us too as they have provided another source of useful feedback on durability and performance as they eventually find their way into the hands of the disabled themselves.
Why don't you make your trike of a material like aluminum to make it lighter and easier to pedal? How about wood?
We decided to make the DOTT trike of common steel for several important reasons. First, we wanted it to be as durable over a long life as possible (hopefully 20 years for the basic frame). When we found out that some areas have termites that can destroy a wooden trike, we were a little concerned. Not to mention the fact that we have found plywood to be very short lived in places like Sierra Leone if it is not properly maintained…a situation we have learned to expect. When we used ¼" plywood for seat surfaces on a trike sent to Sierra Leone, it weathered and delaminated within a single year despite the paint coating. (We assume that constant abuse and abrasion allowed water to get under the finish in a matter of months…and the rainy season did the rest).
Second, when we found out that welders in Africa (and probably many other places) were at least as resourceful as those in our own country, we realized that they would be able to easily repair or modify a common steel trike. Many stories and pictures of our trikes in the field seem to illustrate this.
Third, we were somewhat concerned about the increased tendency of aluminum, if not welded properly, to crack more easily and quickly from stress. Particularly at the welded joints. Recall that one of our primary goals was to create a design that was as simple as possible to build locally…with local welders.  Another was that the design had to be relatively easy to manufacture with limited/locally available skills and relatively common materials (steel in this case). Aluminum's higher cost did not help here either. Nor did the probable difficulty of obtaining it, at least compared to mild steel tube.
In the end, we decided to try and save as much weight as possible by simplifying the design as much as possible. We hoped to do so without sacrificing either the ease of construction or the ability of the trike to be overloaded with goods and used as a "wheelbarrow" in the village on occasion. While some would suggest the use of thinner steel tubing to save a little weight (we use tubing in the range of .058"-.065" for most parts, 16 ga.usually), we find that thinner tubing is all too easy for the amateur welder to "burn" thru. It is also more difficult to obtain in many places.
Why do you use those wide wheelbarrow wheels and semi-solid tires instead of regular bike wheels and tires?
Basically, for three reasons.
Soft and/or rough terrain performance (floatation). 
Longevity without maintenance (flat tires and spoke breakage)
Ability to weld on the gear we need.
Granted, the smooth, easy and fast ride of narrower, large diameter high pressure tires is great for many areas where the roads are suitable and they can be maintained. For some reason, most of our trikes end up in places that are muddy, sandy, rocky or have no "bicycle" maintenance infrastructure.
Why don't you have a derailleur system, faster gear ratio or a multi-speed hub on your basic trike design?
Actually, several different experimental versions of the DOTT design have been built with different gear ratios, wheel types and even multi-speed hubs. One we even called the "Ferrari" because it felt incredibly fast due to the gear ratio and larger, very smooth riding high pressure wheels.
Another prototype we designed (really more a research project for the US market) was equipped with a Shimano Nexus seven speed hub. It also had an advanced "on-the-fly, position switchable" crank arm designed to maximize its potential, allowing the user to switch to racer type "row" pedaling for high speed after he/she got going. It too was equipped with high pressure road tires.  It was beyond scary fast.
However, we have always been a little uncomfortable sending such a trike to any area where there is little or no infrastructure capable of maintaining a delicate multi-speed system. Cost concerns also play a big factor in these decisions. While an internally geared 6 or 7 speed hub would seem to be a great solution since it is fully enclosed, these are generally rather expensive. The Shimano Nexus hub was a little too easy to damage the shift mechanism on (where it attached to the hub) and needed constant attention if abused.  We are unsure how long they would last in the field without proper care and handling.
We are currently looking at a concept for a very rugged and simple system that would allow a relatively fast "manual" change of gearing between two gears if the trike was stopped, but this is still in the conceptual stage and has not been prototyped yet.
Another chronic problem with using single speed bike wheels comes in achieving a reasonable gear ratio. It has been our experience that a one to one gear ratio is about as far as you want to go, assuming you are using a 16" diameter wheel. What we mean by this is that the number of teeth on the crank gear (chainring) should never be more than the number of teeth on the gear that is attached to the front wheel. In practice, it is hard to find (bike rear) wheels with gears that are big enough (have enough teeth). It seems that most such wheels have a gear around 18-21 teeth attached to them. Assuming a 16" diameter bike wheel, it would be best to have a gear a bit bigger, maybe around 28 teeth or more (if you are using a 28 tooth crank gear/chainring up above). In fact, we generally try to have roughly 50% more teeth on the gear on the front wheel to make pedaling easier. With our typical 28 tooth chainring up above, we will use front wheel gears with 40 to 52 teeth for better power on loose soil or hilly areas. This is important as it helps to reduce pressure on the critical joints and muscles in the upper extremity. The only time you should ever consider having or allowing a smaller gear on the wheel than on the chainring is if the user is in good shape and the roads are very smooth and level. Otherwise, the extra stress placed on the arms and shoulders may eventually cause overuse damage to the user. Also, bear in mind the fact that using a larger front wheel (say, maybe a 20" diameter) will make this problem even worse because it has effectively changed the gear ratio even more in the wrong direction. A 20" wheel will increase the uphill pedaling pressure on the user by about 30% over a 16" wheel.
Are you saying that faster, multi–speed trikes for the disabled are a bad idea?
Absolutely not! We would provide such a trike to an area that could maintain it in working order, could afford it, and had terrain and road surfaces suited to its capabilities. It just so happens that, so far, most of our customers have been very "resource limited", unfamiliar with basic bike maintenance concepts, and lived in areas without reasonable road surfaces. Maybe someday that will change (and then so will the DOTT).
You prefer the use of a somewhat shorter crank arm to help prevent the over-extension of the elbow joint during pedaling. Doesn't this make pedaling just that much more difficult since you are giving up some "mechanical advantage" or power by doing so?
 You are correct. We do sacrifice some mechanical advantage/power by using a 5.5" (short) crank length. (Incidentally, most bikes have a crank length around 6.5" or more). We still consider a standard bike crank length too risky in any case, due to that over-extension issue. Instead, we prefer to modify the gear ratio to get that mechanical advantage back. Remember, wheel diameter plays a part here too.
In your DOTT Fitting Manual, and elsewhere, you constantly preach the importance of proper skin integrity and thus pressure sore prevention.  Of course, proper seat surface padding is critical to prevent pressure sores. Why are most of your sample trikes sent without seat pads?
You are very correct that we emphasize the importance of pressure sore prevention. We are assured that a simple pressure sore, if it gets infected and is not adequately dealt with, can eventually result in a person's death. However, there are a few reasons why we generally leave this up to the eventual recipient and their local medical person. First, it appears that a properly fitted trike is best set up by a person with adequate knowledge of the recipient's specific needs. This includes the type and arrangement of the seat padding as well as all those other ergonomic adjustments. Hence our provision of a fitting manual. Small differences in adjustment (and, we assume, padding) can make big differences in comfort and protection of skin integrity.
Not having to ship padding also makes it easier to get the disassembled trike into a box (or two) that meets airline restrictions for luggage. Since this is how most of our sample trikes must go, this can actually be a significant factor. Then, when the trike arrives, the folks there can create their own seat padding to meet the specific requirements of the recipient.
Can standard bicycle type wheels be adapted to the DOTT frame?
In a word, yes. We have created versions of the DOTT trike with a 16" bike wheels on the front and two 20" wheels on the back, as well as 24" wheels, all of which use typical bike tires.  Incidentally, we have usually used Skyway brand wheels as they can be ordered with a hub and bearings that fit our 5/8" axles. See the "Ferrari" pictures under "Why don't you have a derailleur system…?".
What do you consider the strengths of the design?
We feel that the greatest strength of a design concept like the DOTT is in the area of ergonomics. Every other aspect of the design, within reasonable constraints, has been made subservient to the basic need for a trike that can be adjusted to fit the user and, we hope, prevent unnecessary injury to both muscle and joints. The shorter crank arm lengths, lower gear ratios, adjustability, etc., are all a result of this being our primary focus. This is also why a "fitting manual" was created specifically for the trike by a Physical Therapist who donated considerable time to help us develop the design.
We would like to think that another strength of the design will be long term durability. This is why we went with a combination of mild steel construction and tough wheelbarrow wheels, albeit at a slight weight penalty. We then count on the unique, almost simple frame design to reduce parts count and weld joints and help save a little of that weight. If you actually count the number of weld joints and tubes that are used to make a typical DOTT frame, you will probably find that it is less than most truly adjustable and rugged trike designs use. Yet another feature of the DOTT is that it was designed in parallel with the manufacturing fixture systems created to make DOTT production easier and faster. We currently have two different such systems for holding and aligning all the DOTT trike frame components as they are being welded. One is more sophisticated, and much like the fixturing that is seen in auto plants where the body shell components are held together in a similar fixture while being welded together by robotic arms. While we have never actually timed it, such a fixture, properly set, up could probably be loaded and the (pre-cut and bent) frame parts welded together (with good alignment and accuracy, even by newly trained workers) in just a few hours. We estimate that the cost of this fixturing system is around $2,000 to $3,000.
For situations where only a few trikes are being built, we have also design and used a very simple system of carefully measured and cut wooden blocks, in combination with a flat concrete floor and a few basic tools (like a carpenter's square), to align and build DOTT trike frames.
While not as fast and easy to use as a true fixturing system, we have still been able to accurately weld together entire DOTT trike frames in less than a day by this method. In fact, it is the system that we use ourselves to make sample trikes occasionally. The "wooden block" system even has a highly illustrated, step by step manual available to go with it.
Another interesting advantage of the design, and one we cannot take credit for, is the adjustable rear wheelbase. It was a great idea contributed by one of our many partners (this one in Texas). In essence, this idea allows the rear wheels to be mounted on short "stub axles" which are easily removed to help us meet airline box size restrictions when shipping overseas. A side benefit is that, during assembly, we can pre-set the rear wheels a few inches wider or a few inches narrower on each side by the positioning of simple aluminum spacer tubes which slide over the axles. The DOTT-CC can be configured to be as narrow as 26.5", or as wide as 31".
For those who require more lateral stability on difficult terrain, the wider setting is usually preferred. In other cases where the emphasis might be on getting thru narrow doorways, the narrower setting may be used.
Not really a big deal, but a nice feature is the "Steering Hinge Pin" that can be pulled out to quickly and easily remove the entire front end for easier transport without much disassembly. In fact, the entire trike disassembles fairly easily. The wheels mount in a similar fashion, retained by cotter pins. The seat back bolts on with four bolts, the leg rest/foot rest assembly with just two bolts.
What do you consider the weaknesses of the design? What are you still looking to improve?
Currently, we feel that the greatest (and thus far…intentional) weakness in the design is the lack of "built in" cargo space, particularly in the back. While we do have several ways that cargo areas can, and have, been added to the design, we have thus far left that up to the user. Primarily this is because our trikes have had to be able to ship easily via the airlines so that we could get them overseas for durability, performance and ergonomic testing during the last few years. Getting good feedback from these tests has been crucial to the development of those parts of the design. Severe box size restrictions limit the length of the frame we can ship…and thus the room to add a large "cargo box" on back such as many trikes have. However, we know that it would be a very simple matter for an overseas, local builder to just add as many inches of frame length as he decided he needs for a cargo box…and simply build his trikes that way.
In other cases, some have added cargo space underneath by simply installing a long plywood panel that rests between the rear axle crossbar and the footrest in front, as shown here:
The advantage of this approach is the forward weight distribution that helps to keep maximum traction on the front wheel in loose soil.
We currently have some smart university students developing different concepts for cargo carrying in the trike. They even have a great concept for a trailer that can be pulled behind the trike…or removed and used as a separate wheelbarrow.
Another nagging problem with most hand pedaled trikes is that the chain occasionally comes off. This usually happens on very rough terrain or if the chain is not properly maintained or tensioned. We have successfully prototyped and field tested a polycarbonate "chain keeper" design that we hope will help us to eventually eliminate this problem.
The performance of the prototype was quite impressive, allowing us to run an extremely loose chain without problem. Unfortunately, due to limited resources, it has and will take us a while to get some initial steel "production" units made up.
Like all of us who dabble in the hand pedaled trike arena, we wish that there was some magical way to have a multi-speed gear system on the DOTT that would cost very little extra, be impervious to weather and impact damage, and require no maintenance and no repair. So far we have not seen such a system. Nevertheless, we are currently researching a simple and comparatively rugged system that would use just a few extra parts while allowing a "manual" change between two gears. It would also be simple enough to be understood and repaired by most users or their friends. At least that is the plan. We will have to see how it develops.
Additionally, there is a list of minor issues we wish we had a solution to. For example, rust on the axles could eventually make the wheels difficult to remove when the time came. We advise the user to occasionally grease these areas to prevent rust, particularly in wet and humid climates. But we are sure that few do. We have researched many solutions, like stainless steel and various thin and durable coatings, but none are especially cheap or convenient. We continue to work on these issues.
What Will It Really Cost To Make The DOTT Trike In Africa And Elsewhere?
The very first thing we are usually asked is what a DOTT trike would cost to build. In short, somewhere between as little as $150 or less, and as much as $750 or more.  Why the wide range? What would your costs be? Those are questions that can take a little more time to answer.
To begin with, in the building of a trike there are usually two major factors that will determine the actual cost of that trike. These are simply the labor costs to build it …and the parts and materials costs of the trike (including costs of shipping those parts in). In the US, where we have our sample trikes built, both of those costs are fairly high. In fact, our labor rates are surely some of the highest in the world. Thus, our sample trikes cost us about $750 to produce here in the US. That is very expensive compared to some overseas production. However, we prefer to keep building our sample trikes here because of quality concerns with the production in some other countries, as well as the ability to work quickly and smoothly with a good supplier who understands our goals, and can make minor improvements quickly.
Of the $750 that we pay for each trike built here, roughly $350 of that amount (2015) is the parts and materials cost. These would be the wheels, the bike parts that we use, the steel parts and tubing, and the seat surfaces. The remaining $400 is used to pay for the labor used to weld, paint, and partially assemble the trike, ready for shipment (unless we do the welding ourselves).
Now, to put this in some perspective, there are hand pedaled trike builders in Africa that will sell you a trike for around $215-250. Obviously, their production costs are far, far lower than ours. Why? The labor rate in Africa is probably pennies to our dollar. Second, it is equally obvious that the trike producers over there are getting their materials at a much lower cost than we are, perhaps due to having developed the right supplier "connections", as well as having the benefits of ordering material in far larger production quantities. A third factor, or so we have been informed, is that countries such as China are sending even lower quality parts to places like Africa than we see in the US, and so can charge even less for those low quality parts.
What does all this mean to us? First, the good news is that most DOTT trike building operations in other countries will enjoy the same low labor rates that the commercial African trike builders do. Most of the costs of a $750 American built trike would disappear right there. But that still leaves us with the material costs, which in America, at low production rates, are still up around $350.Ordering parts in much larger production quantities would lower that figure a lot too. Even though a typical DOTT trike does use some parts that will always be a little more expensive than the typical African sourced equivalent (due to higher quality parts in areas like the bearings and wheels) we would expect that a robust and ergonomic DOTT trike could be built for perhaps a reasonable amount more than the typical African trike.
It may be worth noting here that, all other factors being equal, the simple DOTT frame design should take roughly 30%-40% less material to build and half the time compared to most commercially built African trikes. *Both of these factors should make the DOTT design very competitive with the African trikes that we have seen…if we can find a way to get the materials at similar costs.
 *A few western designs are even simpler than the DOTT design, but they do not meet a number of our design requirements for ergonomics and ruggedness.
Starting back in 2005, HWI began prototyping hand pedaled trikes. To be clear, our focus has never been on becoming a major trike producer. We merely wanted to try and do what we could to improve the "state of the art" of hand-pedaled trike design. We then hoped to make that design information available to any who wanted to help the poor and disabled to gain mobility. Perhaps along the way we hoped to provide a few people with mobility ourselves.  Over the next several years more than a dozen  different prototypes in several different configurations were created, tested, and in some cases shipped overseas.

First 4 Experimental Trikes from left to Right: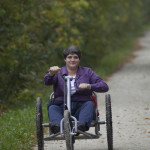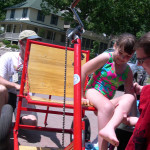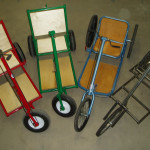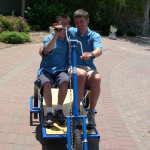 During that period we were trying to find the basic configuration that was a reasonably happy compromise between the many conflicting requirements that go into hand pedaled trike design. Of course, we looked at many of the existing designs that were out there. They all had their strong points and, like every design (including the DOTT), they all had some limitations. We were particularly interested in the compact wheelbase and maneuverability of the PET trike, a great asset in congested areas. We were also impressed with the way some, specifically Ron Rice and his crew, were able to produce thousands of trikes in places like Nigeria. Whatever we designed, we wanted it to be easy to produce in situations like that using the local workforce, so as to provide employment in areas that really needed it, and skills to the local people. Many more prototypes were made and some would find their way overseas. After more prototyping and testing than we care to remember, we finally came up with what seemed to be a reasonably simple design that could meet most of our requirements, the DOTT-A.
At this time, our most important influence came when our Physical Therapist joined us. She began researching the ergonomics of hand pedaling (a new area of research, we were to find out). Fortunately, she also brought with her experience in dealing with wheelchair fitting (some overseas), "transfer" issues and wheelchair use (this became obvious to us when we saw her do a perfectly controlled "wheelie" one day in a wheelchair as she was casually talking to us). For us, her arrival was well timed. We had just created the first version of the DOTT trike in early 2007 (the DOTT "A", of which only two were ever built), and had solved most of the underlying mechanical, layout and drivetrain issues to our satisfaction. Now, for the next version (to be called the DOTT "B"), we would utilize her input to add adjustability to the seat back, deal with leg support issues, refine the seat angles and height and, perhaps most importantly, go on a search for shorter crank arms and better gearing.

By this point we felt that we were finally heading in the right direction. Many of this DOTT-B version were sent/donated overseas for testing in places like Sierra Leone (very rainy…where we learned about how quickly thin plywood can rot)…
Haiti (very hilly and rocky terrain…where we learned about a possible frame weakness and created a solution)…

Peru and Bulgaria (where we used bicycle wheels) and a dozen other countries in Africa and elsewhere. Some we would never hear from again. Others would contribute valuable feedback. In the end, between 2008 and 2011 dozens of DOTT-B trikes were built here by us and sent around the world to help test the basic DOTT concept. Kits for another 15 were sent to a hospital in Ethiopia, where they were welded, assembled and distributed there. Another 20 or so were built from scratch in Northwest Africa using mostly local materials. During this time we also created the DOTT assembly system. To make assembly relatively fast and easy, we created fixturing that holds the frame parts in position during welding.
We also developed a fully illustrated assembly manual that even showed how to position and weld together a "well aligned" DOTT frame without any assembly fixtures, just by using wood blocks cut to specified lengths.
 Another major change to the DOTT design took place in 2011 when we decided to make a few more refinements to reduce weight, increase strength, extend longevity and add a long desired, retractable "tiller brake" option (with built in parking brake lock) for safer downhill riding. This version would be called the DOTT-C. However, none have ever been built. Instead, we incorporated all those improvements into a smaller version of the trike better suited to those who were 5'6" and under  (most of our likely clientele). This we christened the DOTT-CC, as it was a "compact" version of the new DOTT-C, incorporating all of the DOTT-C refinements in a new, smaller size. Since late 2011, a production run of 30 of these trikes have been made here in the US and shipped around the world for further testing and use.

Our newest and most promising development involves a partnership with university and college students at several key institutions (and that list is growing). As part of formal team projects they have begun to focus on specific areas where they can contribute further ideas, options and improvements to the design. The originality, creativity and fresh insights that they bring are already beginning to bear fruit. It also reminds us that no one person or group has a monopoly on good ideas, and that we will help the disabled best if we work as a team. As somebody once said, it is remarkable what can be done when nobody worries about who gets the credit. For us this is the most significant development of all as it means that the design has finally evolved to become a true community project that some of our brightest young minds can continue to develop and improve.
DOTT FAQ document prepared by Kevin Nikolich, Design Engineer 021415